Quilt vs. Comforter: What Helps You Sleep Better?

The debate between quilt vs. comforter reigns on. While some prefer a thin, traditional bed covering, others remain loyal to a thicker and more modernized alternative. It's not all about aesthetics, either. The consistency of your covers can actually impact your quality of sleep. Read on below to learn more about the different options out there and which one is right for you.
Quilts are a kind of household textiles or fabrics used in the home.  They have a variety of uses, making for a pretty adaptable household item.
A traditional quilt typically boasts a type of patchwork which can be traced back to medieval times. Today, more modern quilts are typically stitched together in a certain style, with three layers: top, inner batting, and bottom. 
The top and bottom layers are often made of different fabrics, and styles so if you flip them over you get a different look. The top layer is usually crafted from many different pieces of fabric stitched together to form complex patterns. 
The inner batting, or the middle layer, is often just a thin layer of filling such as wool or down. This makes quilts slightly warmer than blankets.  Meanwhile, the bottom layer is often just a solid piece of fabric. 
Quilters, or people who do quilting, usually stitch through all three layers of fabric, and this technique helps create that traditional look.  While most quilts were once made by hand, you can now find different quilt varieties mass-produced using sewing machines.  Often, the patterns are now dyed into the fabric instead of sewn in.
Still, quilts continue to occupy a large space in modern American households, not just as a bedspread or blanket, but also as wall hangings.  You can even use the thin quilt as table runners or as a throw blanket for your couch.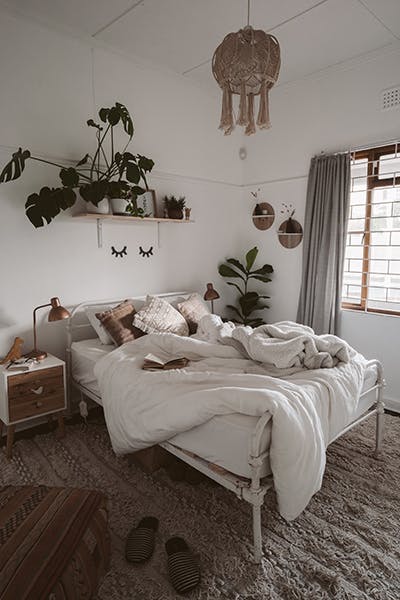 A comforter is a type of thick bedding topper filled with natural fibers or a synthetic substitute.  Comforters are usually quilted with the filling evenly distributed.  Unlike quilts, comforter filling typically comes from wool, silk, cotton, or polyester. 
There are two predominant types of comforters, and they differ based on how they are constructed.  Baffle box construction refers to when thin strips of material are sewn between the top and the bottom cover.  You will see this done in a checkered pattern to keep the amount of filling evenly distributed between each box. 
The other type of comforter is called sewn-through comforters. As the name suggests, sewn-through construction stitches the pattern completely through the fabric without the help of small fabric strips.  This helps ensure the filling will stay exactly where they are intended to be, but the down won't be as evenly distributed as in baffle box construction.
This is why baffle box comforters tend to be more expensive than sewn-through comforters.
Either way, comforters are great bedding to help you keep warm, especially in winter.  They also often come in matching bed sets, so if you like a uniformed, kind of layered look on your bed or guest rooms, comforters are the way to go.
A duvet cover is a removable cover that you use on duvet inserts, which are similar to comforters.  But while most comforters can be used straight out of the box, duvets need to be inserted into the duvet covers. 
Of course, you can always go without, but duvet covers act as a protective layer over your duvet or comforter.  Because duvets tend to be heavy and hard to clean, duvet covers are useful in that they are easily removed and easily cleaned. 
It also helps if you enjoy changing your bedroom style every now and then. A different duvet cover provides an easy and affordable way to change your entire bedroom aesthetic.
How To Decide What's Right For You
Quilts and comforters have their own uses, but choosing which one will help you sleep better is a matter of preference.  Certain circumstances ask for a thick bedding topper like a comforter, but sometimes the situation calls for a lightweight quilt.  So, are your team comforter or team quilt?  Find out which group you should subscribe to below.
Quilts are often made with cotton blends, which makes them more suited to hot sleepers to keep them cool and give them the best sleep.  While quilts don't necessarily have to be 100 percent cotton, they are often made with lighter material so they're suitable for warm climates.
If you dig the layered, rustic, or casual aesthetic for your bedroom, quilts also provide a more decorative pool of options than comforters.  That said, quilts are a bit more delicate due to their patchwork, so they're not very washing machine-friendly.
Choose quilts if: 
Run warm while you sleep
Are a fan of the quilt aesthetic
You are fine with regular trips to the dry cleaners
You don't your bedding to be fluffy and cloud-like
Comforters and quilts can both be nice, luxurious bedding, but most comforters are heavier because they are thicker and filled with more down or down alternatives.  If you like the idea of sleeping on clouds, a fluffy comforter is the right choice for you. 
Choose comforters if:
You get cold easily or prefer to sleep in a cold environment
You prefer a more modern aesthetic
You are (still) find with regular trips to the dry cleaners
You like to rotate bedroom aesthetics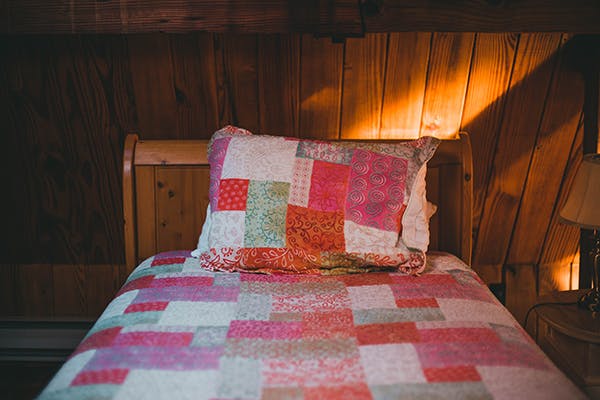 Choosing the right bed covers is important in ensuring you get the proper amount of sleep. Research has shown that having a comfortable bedroom environment is beneficial to most sleepers.
However, sleep products aren't just related to bed and beddings. If you're having trouble sleeping, getting the perfect bedding may help, but it's not always enough.
Sandland Sleep offers natural sleep aids that can help you maintain regular sleep with no side effects.  Made with natural, top-graded hemp extracts enhanced with melatonin,Fall Asleep, andFast Asleep can help you address your sleep problems.  Taking these regularly provides the brain with gentle reminders for when it's time to sleep. Fall asleep fast, stay asleep longer, and wake up refreshed.
What is the difference between a quilt and a comforter?
Comforters and quilts are both designed to be thrown on top of your sheets right off the bat, but they have differences in manufacturing style, aesthetic, and even function.  Quilts have more of a rustic, casual design due to their layered look and complex pattern and are usually made with lighter materials. They have an inner filler called batting usually made with down or wool. Unlike comforters, they aren't as heavy and won't weigh you down.  Comforters, meanwhile, have a fluffier look, with the inside layer filled with more down or down alternative material. 
Are quilts or comforters better for summer?
Quilts tend to be a better choice for the summer because they are usually made of lighter materials such as cotton, and thus have lighter weight than comforters.  Comforters also tend to have more filling inside which are usually designed to trap heat and keep you warm.  Comforters are great for the extra fluff, but they're not a good option for warmer climates.  Instead, use comforters for colder nights or days when you get extra chilly.
Which is warmer: a quilt or a blanket?
Quilts are warmer than blankets.  This is because quilts have three layers, while blankets are single-layer fabrics.  Blankets are great for hot sleepers because they can provide you with just enough warmth without allowing you to overheat.
Which is lighter quilt or comforter?
Generally speaking, quilts are lighter than comforters because they are usually made of lighter materials and smaller in dimension.  This means they're thinner and aren't quite as warm as comforters.
What To Wear To Bed for Great Sleep
We seem to spend an obscene amount of time figuring out what we're going to wear to work and other social occasions. But the outfits we wear to sleep? Somehow, those never seem to get as much attention. But maybe it's time we change that. As it turns out, our PJs can have a big impact on our quality of sleep. Check out the information below to learn what to wear to bed for a great night's sleep.
The Best Memory Foam Pillows 
Looking to secure optimal comfort and support for a pain-free night of sleep? We've got just three words for you to keep in mind: memory foam pillows. These mattress toppers have become wildly popular over the past few years because of how often they deliver a full eight hours of comfortable sleep. Read on to learn more.
What is an Ergonomic Pillow and How Does It Work?
Around one-third of the American population is sleep deprived. If you're one of them, then chances are you're already familiar with products promising to deliver a better night's sleep. But did you know that pillows are also in the running? Ergonomic pillows, to be exact. These cushions carry a lot of promises, which is why we're diving deep into the trend. Is it time to do away with those feather pillows? Read on to find out.