How to Find the Best Bedroom Fan for Sleeping

Your environment has a profound effect on how much sleep you get. As the weather gets warmer, temperature becomes more difficult to control. Short of investing in expensive cooling mechanisms, many people turn to bedroom fans for relief. If you're looking to upgrade your living space in preparation for summer, be sure to read on below. We've put together a guide on how to find the best bedroom fan for sleeping.
Why Should I Invest in a Sleep Fan?
Explore the many benefits sleep fans provide during the summer months.
Air Circulation

One advantage of getting a fan for your room is being able to secure proper air movement. Fans circulate cool air which means it keeps the air moving constantly. With proper air circulation, you can enjoy a safer and more pleasant breathing environment. This also helps prevent the presence of mold in your room and dissipate odors. A fan can even help remove airborne irritants to help you avoid allergies or asthma symptoms.

White Noise

Another reason why people may invest in a fan is for the white noise it provides. Many people are able to fall asleep earlier with these types of sleep sounds playing in the background. Research has shown that white noise helps encourage sleep and alleviate insomnia. It also helps them stay asleep longer after they eventually doze off.

Low Energy Costs

Another benefit of investing in a fan is the low energy cost. Not only are they cheaper than other types of temperature regulators like air conditioners or thermostats, they also use less power to run. If you need cooling but have a limited budget, a fan can help you save on expenses compared to an AC.

Easy Accessorizing

Another great reason to invest in fans is easy accessorizing. There are plenty of ways to customize your selection to your aesthetic.

For instance, you can paint the blades with the colors you want, or even change them if you want a whole new look. You can also add a remote accessory if your fan doesn't come with one, or add lighting pieces to make it multifunctional.

Another way to accessorize your fan is by adding temperature sensors or expansion joints. If you don't want too much noise from your fan you can also invest in silencers.
6 Questions to Ask Before Buying a Bedroom Fan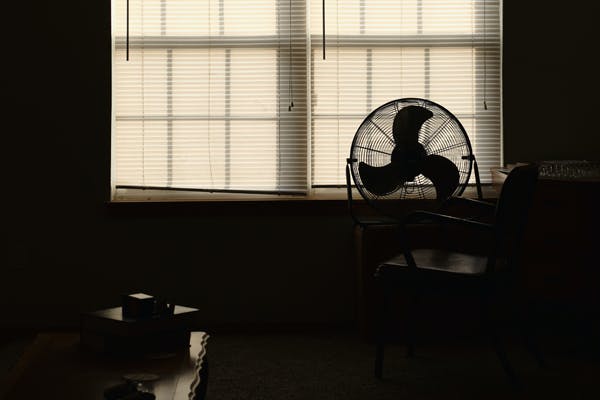 If you're thinking that a bedroom fan may be good for you, it's time to start exploring the market. Before settle on a decision, however, you may want to ask yourself these questions first:
What's Your Noise Tolerance?
Most people who sleep with fans on are doing so because they consider sleeping fans as their white noise machine. However, it's important to consider what level of white noise you can tolerate.
Even if you sleep better listening to some sort of background noise while sleeping, you may not tolerate particularly loud options. If you want the white noise but don't want it to be too overwhelming, we recommend investing in a quiet fan.
Product Recommendation: The Lasko Portable Electric 42" Oscillating Tower Fan.
Do You Want it Running All Night Long?
Another question you need to ask yourself before you run to the nearest appliance store (or Amazon) is whether you want to have your fan running all night long or not.
Many people choose to sleep with their fans running the whole night. However, some people may find this disruptive, especially if it gets too cold later in the night.
If you don't want your fan running until the morning, you may want to purchase a fan with a timer so it can automatically turn off at a set time. If that's not possible a fan with remote control will work as well so you don't have to get up from bed to turn the fan off.
Product Recommendation: The PELONIS 40" Oscillating Tower Fan.
Room temperature is an important factor in comfort and sleep because of the way our body temperature fluctuates as we prepare to rest.
Our body temperature also tends to fluctuate even as we sleep, so keeping the room temperature at an optimal state can help us stay asleep longer.
If you usually run hot during the night, you're probably no stranger to waking up sweaty and uncomfortable. If so, a cooling fan may be a good addition to your room.
Product Recommendation: The Vornado 460 Small Air Circulator.
Do You Have an Even Surface Available?
Another important consideration before you buy a fan is whether you have space to put it in. For many types of fans, you need to have an even surface close to your bed.
If you have enough floor space, a floor fan will work well for you. If you don't have space for a floor fan but have an available desk space or a tabletop beside your bed, you can get a desktop fan instead.
If your surface space is too small for a desktop fan, a box fan will serve you well. It will fit snugly on most counters and tables due to its compact design.
If your room space is too tight even for desk fans, you can try a personal fan, which tends to be small fans that can fit most spaces.
In case you have no floor or surfaces available, you can opt for a ceiling or a wall fan instead.
Fans are more budget-friendly than other room cooling appliances such as air conditioners or air coolers. However, they are still an investment, so it's important to see what type of fan will fit your budget.
The smaller the fan, the cheaper they are usually. However, the features of the fan matter too.
Fans with more features will be more costly, while simpler fans will be a bit more affordable. That said, you also want to consider long-term expenses such as the energy cost, so we recommend getting a fan with low power consumption so you won't ramp up your energy bill.
Product Recommendation: Vornado Medium Pedestal Air Circulator Fan.
Do You Want Multiple Settings?
Before you buy a fan, you also want to consider what settings you may need.
For example, there are different settings that you may need to consider during the summer or winter seasons. Fan direction can change how your fan cools down a room.
Do you need fans that can change direction? If so, ceiling fans are the best choice because you can easily switch fan direction and even change the range to better suit your needs.
If you need more automated settings, you need a fan with built-in WiFi or an app that you can use to control the settings and features.
Product Recommendation: Haiku L Smart Ceiling Fan.
Alternatives to Sleeping with a Fan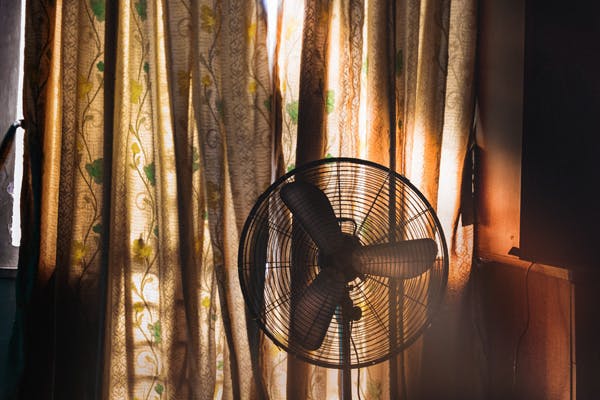 While sleeping with a fan sounds like a great choice to help you get better quality sleep, not everyone likes it. Sleeping with a fan can also cause a build-up of dust, particularly if you don't have much time to clean regularly. If you're worried about the impact this will have on your sleep environment, consider the alternatives listed below.
Sleep Fan is an app that emulates the sound of a fan. It's a great alternative to actually having a fan in your room, especially if you only need it for the background noise. This app has a timer that you can use to stop the fan when you're fully asleep.
Aside from keeping track and listening to your snoring recordings, you can use SnoreLab as a sound machine to help you sleep. The app actually contains a range of soundscapes for you to choose from. If you need to be up at a certain time, SnoreLab also functions as an alarm clock to wake you up.
If you want to know how much and how well you sleep, ShutEye is a great sleep tracker that can help you analyze your sleep. It uses the sounds recorded through your phone's microphone and runs them through an algorithm to generate a report on your sleeping patterns. This way you can see a graph of your sleep cycle and quality. The app also comes with a background noise generator to help you get better sleep.
Sleep Easy with Sandland Sleep
Investing in a good fan for sleeping can certainly provide plenty of benefits that may help your sleep. However, sleeping with a fan isn't for everyone, and may even cause issues such as mucus buildup, dryness, and muscle tension.
Natural sleep aids provide a safe and affordable alternative. Sandland Sleep is known for its all-natural ingredients, including hemp and herbal extracts. We also offer ourUnwind Topical Rub, which uses the power of aromatherapy to help you fall asleep faster and enjoy a good night's rest.
Is it healthy to sleep with a fan on?
Sleeping with a fan on won't necessarily harm your sleep, but it does have its downsides. Keeping the fan on keeps the air circulating and may dry out your mouth, nose and throat. This could result in an overproduction of mucus, leading to headaches, a stuffy nose, sore throat, or snoring. There is no research to suggest that a fan can cause sickness, but it could worsen your symptoms if you're already under the weather.
Do fan noises help you sleep?
For some people, fan sounds can block out other unwanted noise and help them turn off their minds for sleep. This helps them relax and sleep better.
What kind of fan is best for sleeping?
The best fan for sleeping depends on the person and how they use fans for sleep. If you're using fans mainly for the white noise sounds, you may benefit from a ceiling fan or an oscillating fan. If you're using fans for the air circulation and keeping fresh air in your home, any fan works but you may want something with multiple settings and remote control so you can turn it off once you become comfortable.
How To Stay Cool While Sleeping
Picture this: you're riding out the ultra-hot weather. You've finally managed to get some shut-eye, but as soon as you start going into a deep sleep, you wake up soaked in sweat. If you've been here before and have struggled to get back to bed, you're not alone. Overheating can interfere with your circadian rhythm, disrupting your sleep and affecting your overall health and well-being. In this article, we're discussing how to stay cool while sleeping—and no, we don't mean by blasting air conditioner all night long. Read on below for more information on how your core body temperature affects your sleep quality. We'll also offer strategies for avoiding night sweats, hot flashes, and damp sheets while sleeping. 
Too Hot to Sleep? Here's What To Do
Being too hot to sleep is a frustrating feeling. Even more frustrating is knowing that hot weather alone isn't always the reason why we warm up at night. But don't sweat! There are as many ways to cool down so you can get good sleep and wake up feeling refreshed. Wondering what they are? Read on below to find out.
The Best AC Temperature for Sleeping
A good night's sleep depends on your sleeping conditions and hygiene habits. Ideal sleeping conditions include a dark, quiet place with a slightly cooler temperature. For example, a cool room can help you get enough sleep. But what is the best temperature for sleep? Read on below to find out. In this post, we'll discuss why sleeping in cooler temperatures is ideal, the best AC temperature for sleeping, and tips for achieving a better sleep environment.