Do Sleep Gummies Actually Work?
Do sleep gummies actually work? We sure hope so, given how heavily they're marketed towards the millions of adults suffering from sleepless nights across the country. Not only do these pocket-sized solutions help put us to sleep, but they also provide a tastier solution to other sleep products out there. Now, let's take a closer look at the different options available.
Sleep gummies aren't much different from vitamin gummies. They're chewy and come in a variety of flavors, and contain a certain amount of chemicals that help you fall asleep.
All available sleep gummies on the market typically contain either one or a combination of melatonin, CBD, and THC. Sleep gummy with these compounds works with your body's receptors to signal your body that it's time to sleep. 
Unlike sleeping pills that contain benzodiazepines or antidepressants, sleep gummies with melatonin, CBD, or THC won't knock you out.  They only help boost your natural sleep hormones.  Basically, they're candies that promote calm, sleepiness, and pain relief, too.
Best Sleep Gummies For Bedtime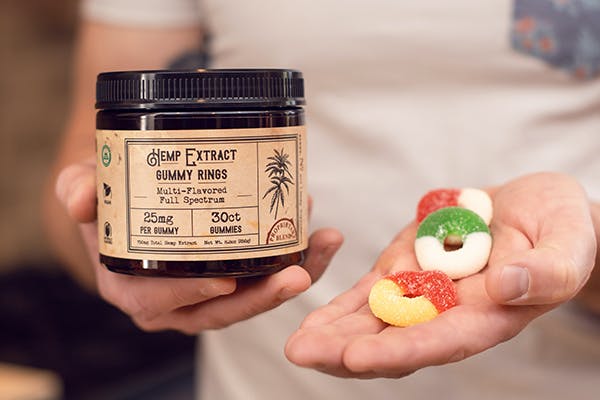 Sleep gummies are a natural and easily accessible sleep aid that doesn't come with as many repercussions as typical prescription sleep medicines.  However, the market is currently heavily saturated with different brands selling different kinds of sleep gummies and it may be overwhelming to filter through the whole mass of them. 
Sleep gummies are also considered dietary supplements, so they aren't regulated or evaluated by the Food and Drug Administration (FDA).  Remember, these types of supplements aren't intended to diagnose, treat, cure, or prevent insomnia or any other disease. If you have underlying medical conditions and suffering from long-term insomnia, it may be best to speak with a doctor before buying.
That said, gummies can still lead to a more restful night's sleep for those who don't suffer from clinical insomnia or other sleep disorders. If you've been meaning to do some research on the subject but haven't quite gotten around to it, don't worry. We already did the work for you. Check out the list below to learn more about the best sleep gummies available today.
As the name suggests, melatonin gummies contain melatonin, a naturally occurring hormone that works by regulating your body's natural sleep cycle.  In essence, this hormone tells your body when it's time to sleep, which is why they're usually more abundant by night.  Taking melatonin means telling your body that it's time to sleep, and in this way, melatonin may cause drowsiness and help you fall asleep.
Natrol Melatonin Gummies can help you fall asleep faster and stay asleep longer with their natural formulation that is non-GMO, vegetarian, and are free of artificial flavors, sweeteners, colors, and preservatives. Their product is pectin-based and less likely to stick to your teeth and the bottle than standard gelatin gummies. They're also available in yummy strawberry flavor.
OLLY boasts a range of supplements to help promote different areas of health and wellness. Their line of sleep supplements is particularly great because they contain a unique blend of active ingredients that work together to calm your mind and promote restful sleep so you wake up feeling refreshed. 
OLLY sleep gummies contain melatonin, l-theanine, and botanicals like chamomile, passionflower, lemon balm to help soothe and relax you from the inside out. OLLY sleep gummies are also tasty with naturally flavored blackberry zen with a fresh hint of mint.  The best thing about OLLY gummies is they're NSF certified, which means they have been independently tested to adhere to strict standards for public health protection.
Cannabidiol (CBD) is a particularly well-known cannabinoid typically derived from marijuana or hemp plants.  They are non-mind-altering which means taking gummies with CBD alone won't make you high. CBD also promotes relaxation and can also reduce daytime sleepiness and promote alertness. There's also growing evidence that CBD reduces anxiety without affecting sleep-wake cycles. 
CBDfx Gummy Bears contain 50 mg per serving of broad-spectrum CBD and contain no corn syrup, artificial colors, or flavors, and never any animal-based ingredients. Completely vegan, you can enjoy each bite of these gummy bears guilt-free.
Royal CBD gummies combine the benefits of CBD oil and capsule with the delicious fruity candy. They also taste great and contain consistent doses. Each Royal CBD gummy is hemp-derived which means they're completely legal since hemp contains less than 0.3% THC.  This means you can safely buy Royal CBD legally across the United States.
Tetrahydrocannabinol (THC) is responsible for the psychoactive effects you experience when using marijuana.  Like CBD, THC is a cannabinoid and functions similarly by interacting with your body's receptors to promote sleep. 
THC also has sedative effects and is reportedly able to reduce REM sleep which is the stage of sleep where your eye moves rapidly in various directions.  This is also the stage where you experience dreams. Reduced REM sleep may mean fewer nightmares. Some study also suggests that THC reduces the amount of time it takes you to get from fully awake to asleep. 
Delta-8-THC is THC derived from hemp and is federally legal, as it's considered less potent than delta-9-THC derived from marijuana. 
Area-52 is a well-known and reputable brand that focuses on the quality of its products so you can be sure each batch they roll out undergoes extensive third-party testing.  Each gummy contains 25 mg of delta-8 THC along with trace amounts of other cannabinoids such as CBD, CBC, and CBG.  They are vegan-friendly and come in a medley of flavors including strawberry, green apple, and pineapple.
You just have to be careful not to take too much. You just need one gummy to secure some relaxation and sleep.
Delta Effex Rainbow Pack isn't just full of color, they're full of variety.  These premium delta-8-THC gummies contain corn syrup, sugar, water, gelatin, citric acid, natural flavor, pectin, vegetable oil,  carnauba leaf wax, food coloring, and natural hemp oil.  The company priorities transparency and publishes the lab results individually for each product.  They come in strawberry, green apple, mango, blue razz, and mystery flavors. 
The recommended dose is about half a gummy or 10 mg at first taken before bed.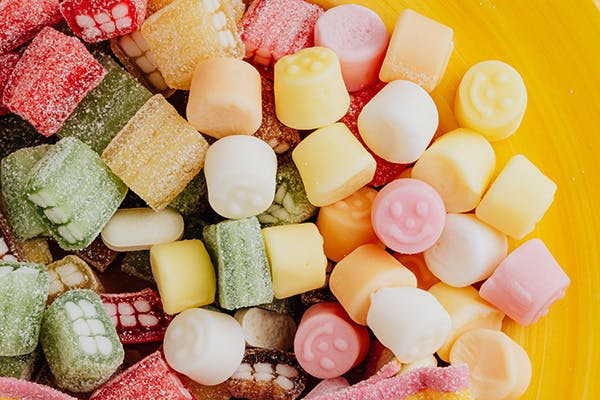 Sleep gummies help you get restful sleep in a delicious fashion. They're also pretty mild since they contain the potent compounds present in prescription drugs like benzodiazepines or antidepressants.  They're non-habit forming as well, so you don't need to worry about getting hooked on them before bed.
Sandland Sleep believes in the power and necessity of good sleep.  That's why we created a line of sleep supplements to help you get the full eight hours of sleep you need. The unique blend of active ingredients is scientifically proven to help soothe and relax your nerves without altering your body's chemistry, so you get clean sleep without any repercussions.
No high, no drowsy morning-afters.  Just clean, natural sleep.
We believe sleep should come easy to everyone. Our Fall Asleep andStay Asleep products help awaken your body's natural sleep hormones, you can be sure to fall asleep faster and longer.
What do sleep gummies do?
What sleep gummies do inside your body depends on the kind of sleep gummies you're taking.  Melatonin gummies give your body the signal that it's time to sleep, while CBD and THC gummies trigger your body's endocannabinoid system. CBD and THC also have sedative effects, which help prime you for sleep.
Is it safe to take sleep gummies every night?
There haven't been any studies that suggest melatonin, CBD, or THC has any long-term adverse effects, although that doesn't mean there aren't. With that, it's pretty safe to take gummies nightly, though you may want to break up the routine after about a month or two. If, however, you start to experience any adverse side effects, stop taking them immediately and speak to your doctor.
How long does it take sleep gummies to work?
It depends on the product and your overall health status, really, but it generally takes around 30 minutes before melatonin takes effect. CBD and THC gummies, meanwhile, may take up to an hour or two before they get fully absorbed into the bloodstream. 
Can sleep gummies make me gain weight?
Taking sleep gummies may actually help you lose weight. Melatonin has been linked to weight loss. Lack of sleep may also contribute to weight gain, so think of it as killing two birds with one stone.  That said, CBD and THC have been noted to boost appetite among users, which could contribute to some weight gain. Though there are also others who report that CBD helps reduce your appetite, so it likely varies from person to person. 
6 Amazing Melatonin Gummies for Sleep
Melatonin gummies are big, at least among those who struggle with falling asleep or staying asleep. They serve as effective sleep aids, elevating your sleeping quality and quantity without those "habit-forming" side effects associated with the products. Keep reading to learn more about how they work and what makes them so popular.