What's the Best Tea for Sleep?

Mention tea and you might be confronted with images of the Queen enjoying a quiet afternoon at the palace. Or maybe it reminds you of a cozy evening in. Your mom may have even brought you a cup or two when you were battling a cold as a kid. As it turns out, tea is pretty good for the immune system. But did you know it can also secure a good night's sleep? Read on below to learn more about the best tea for sleep and how it can help you achieve your full eight hours.
How Does Herbal Tea Help You Sleep?
Herbal teas are hugely popular, thanks to their relaxing effects. They can help drinkers unwind and settle in for the night without the morning grogginess that often accompanies other available sleep aids.
That said, some herbs introduce a more of a sleep-inducing effect than others and are known to promote good sleep by inducing calmness and relaxation. If you suffer from poor sleep and are in search of  products that can help you prepare for sleep, it's time to give this all-natural beverage a try. Check out the list below to learn more about herbal bedtime teas to help you fall asleep.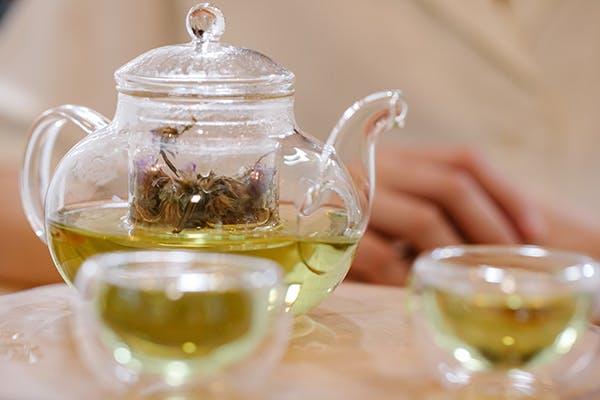 Looking for a natural herbal solution for insomnia? Try these herbal bedtime teas:
1. Lemon Balm

Lemon balm, also known as Melissa officinalis, is a citrus-scented aromatic herb that belongs to the mint family. Lemon balm is used in two forms: tea and essential oil. It's been used to induce sleep since the Middle Ages. Today, lemon balm remains widely used by people from all over the world.

It's also known to significantly reduce stress, anxiety, and depression. If you're struggling with your sleep schedule, a cup of this herbal drink might just help remedy things.

Introduce a cup of tea to your evening routine and see how things develop. You can use tea bags or loose-leaf teas. The active properties in the tea bind to the areas of the brain that regulate how calm or active you are.

Try: U.S. Wellness Naturals Lemon Balm Tea

Sourced from the Republic of Serbia, U.S. Wellness Naturals Lemon Balm Tea is 100% natural. It is pesticide, herbicide, and caffeine-free. The product uses cut and sifted lemon balm leaves in a resealable Kraft stand-up pouch.

The resealable bag is designed to maintain the freshness of the sleep tea leaf by acting as an oxygen barrier. As long as you keep the bag sealed and away from moisture, its contents will remain fresh and potent long after the "best by" date.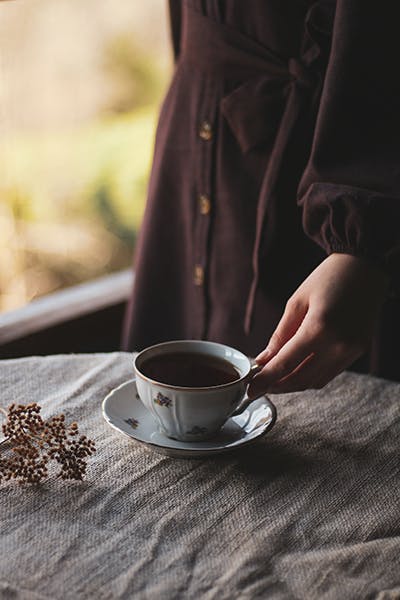 Herbal tea can help relax your muscles, calm your mood, and promote a soothing feeling to make falling asleep even easier. That said, it's important to remember that not all teas are sleep-inducing. As a general rule, you should steer clear of drinking black tea before bed. This blend is actually known for stimulating the brain and keeping you awake.
If you find it difficult to incorporate herbal teas into your bedtime routine, you can also consider supplements like Sandland Sleep. Our herbal sleep aids rely on plant-based ingredients to promote restfulness. We guarantee you the full eight hours you deserve without the morning-after grogginess prescription medications often introduce.
Our Fall Asleep product is a fast-acting supplement that helps you fall asleep without intoxicating side effects. Meanwhile, our Stay Asleep option keeps you down through the night so you can wake up feeling refreshed and well-rested.
What is the most effective sleep tea?
Any tea containing the ingredients listed above will help you secure a good night's sleep. You might also want to stick to loose-leaf teas. Since loose-leaf teas aren't steeped inside a pouch, there's more room to absorb the aroma, flavor, and nutrients containing those sleep-inducing properties that you want before bed.
Is it okay to drink Sleepytime Tea every night?
Drinking something like Celestial Seasonings Sleepytime Tea every night is generally considered safe. However, not all teas are safe for regular consumption, including the brand's "Extra" variety. This version contains a valerian component, which can lead to side effects like dizziness and headaches if consumed regularly.
How else can you fall asleep quickly?
If you're having trouble sleeping, try the 4-7-8 breathing method (inhale through your nose for four counts, hold your breath for seven, and exhale for eight), follow a regular sleep schedule, practice yoga or meditation, and watch what you eat. Good sleeping habits are known to help you fall asleep quickly and can initiate a drastic change in your sleep quality and duration.
Essential Oil Blends for Sleep
Essential oils seem like they're everywhere. Brands say to put them in your hair to help it grow, your scalp to relieve discomfort, and your skin to help heal wounds. Now, people turning to essential oil blends for sleep. And the reason why circles back to the benefits of natural scents. Natural fragrances are known to help stimulate your brain and memory and deliver a wealth of mental health benefits. It's not a new phenomenon, either. Essential oil blends have been celebrated since the days of ancient Egypt. So how can the fragrances that essential oils give off help you achieve a more restful night's sleep? Let's start with understanding more about essential oils, in general. 
9 Best Herbs For Sleep
If you're looking for a more natural way to fall asleep, herbs may be the answer. Though still effective, they have fewer side effects and are non-habit-forming, unlike other prescription sleep aids. In this article, we cover the importance of sleep, the best herbs for sleep, and how they help you achieve better sleep hygiene.
Do Pistachios Help You Sleep?
Getting a good night's sleep can have a positive impact on your health and wellness. Unfortunately, more than one-third of Americans do not receive the required seven hours of sleep every night. If you are struggling with insomnia and are tired of counting sheep trying to fall asleep, grab a handful of pistachios before going to bed.